The busy capital city of Bangladesh, Dhaka, is known for its lively culture, long past, and wide range of delicious foods. The city has a lot of buildings and open spaces, but there are also peaceful places to escape to in the form of beautiful parks. These green spaces offer a much-needed break from the fast-paced city life to both locals and tourists. From the expansive landscapes of Ramna Park to the tranquil surroundings of Gulshan Ladies Park, Dhaka's top 10 parks are oases of calm and natural beauty that offer a breath of fresh air amid urban life. They are not only places where people can meet up and have fun, but they are also very important for spreading environmental awareness in the urban area.
If you're a nature lover seeking green spaces and fresh air in Dhaka, you're in for a treat. Dhaka, Bangladesh's capital, boasts a selection of beautiful parks offering something for everyone. In this post, we'll introduce you to the top 10 parks in Dhaka city and explain why they're worth a visit.
The Top 10 Parks in Dhaka City
We've ranked these parks based on location, features, attractions, ratings, and reviews. Let's begin our journey to discover the best parks in Dhaka.
Fantasy Kingdom Amusement Park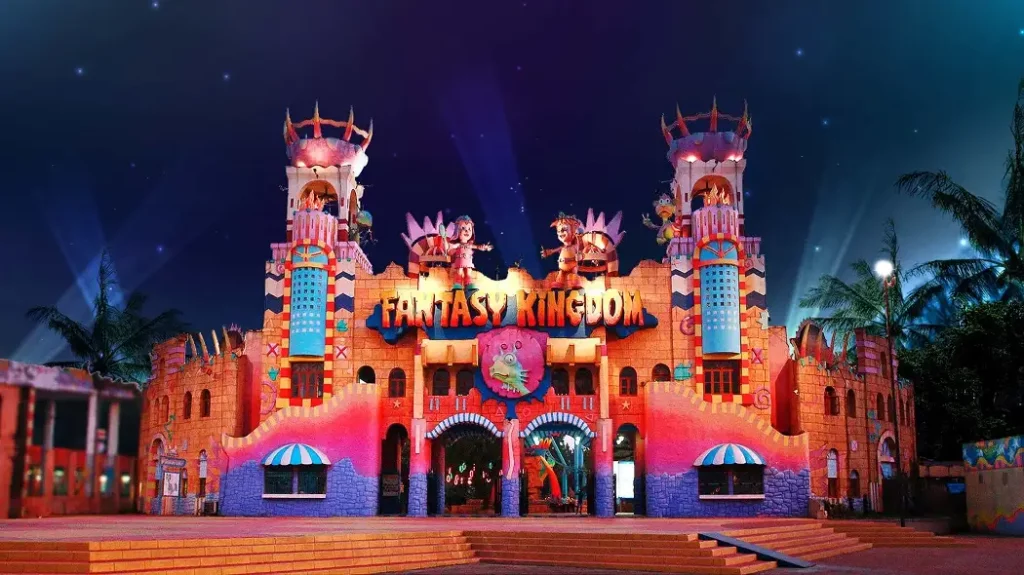 Fantasy Kingdom Amusement Park is located in Jamgora, Dhaka, spanning 20 acres. It is one of the top-rated amusement theme parks in Bangladesh. It offers a wide range of attractions for visitors of all ages.
Key Features and Attractions
Thrilling Rides
Fantasy Kingdom boasts over 30 thrilling rides, including roller coasters, water slides, bumper cars, Ferris wheels, and more.
Interactive Games
Visitors can enjoy more than 20 games with opportunities for prizes, such as shooting, bowling, and fishing.
Entertaining Shows
The park features entertaining shows, including magic, circus, and comedy performances, providing additional fun for guests.
Water Park
An adjacent water park, Water Kingdom Water Park offers 10+ water-related attractions, including pools, slides, and waves, perfect for cooling off on hot days.
Diverse Food Court
A diverse food court serves a variety of delicious options, including burgers, pizzas, and ice cream, to satisfy your hunger.
Operating Hours
Fantasy Kingdom is open from 11:00 a.m. to 7:00 p.m. daily, except Tuesdays and national holidays.
Admission Fee
500 taka for adults

300 taka for children
Facilities
Fantasy Kingdom provides essential amenities, including restrooms, drinking water, locker rooms, souvenir shops, benches, and security personnel. Visitors praise the park for its beauty, entertainment options, and well-maintained facilities. However, it can get crowded and expensive during weekends and holidays, and the weather can be hot and humid during the summer and rainy seasons.
Ramna Park
Ramna Park is one of Dhaka's oldest and largest parks, covering 68.5 acres in the city center. Initially a Mughal garden in the 17th century, it was later enhanced by British colonial rulers and the Bangladeshi government. Ramna Park offers:
A beautiful 8.76-acre lake for boating

A serene pond surrounded by colorful flora

Ancient trees provide shade and tranquility

A breathtaking flower garden

Monumental tributes to Bangladeshi history

A well-equipped playground

An informative park museum
Opening hours: 5:00 a.m. to 8:00 p.m. daily, no admission fee. Visitors appreciate its beauty, history, and recreational opportunities.
Gulshan Lake Park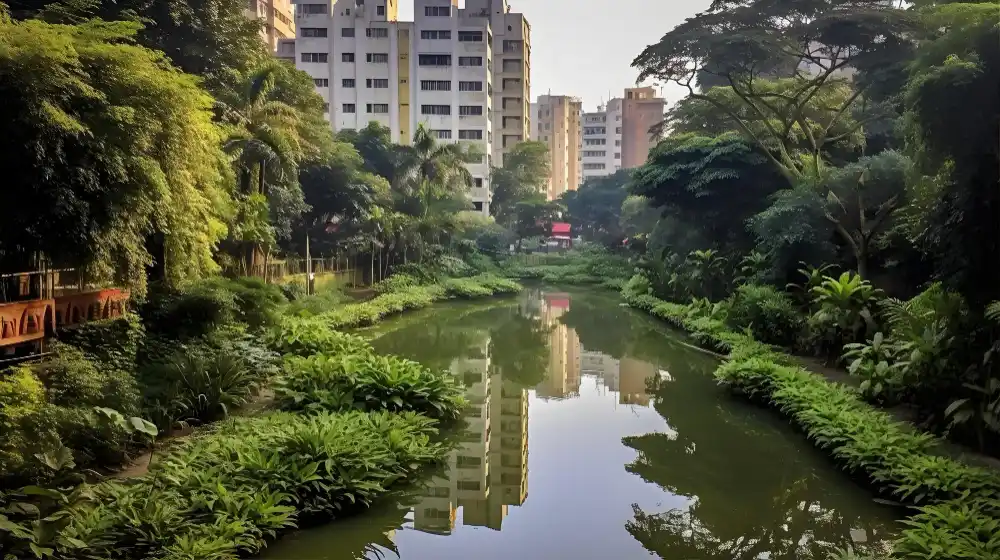 Gulshan Lake Park, situated in the upscale Gulshan area, spans 13 acres. Developed in 2009, it's meticulously maintained and provides:
A picturesque 91-acre lake

A charming wooden bridge with panoramic views

An illuminated fountain

Artistic sculptures

Comfortable benches

A jogging track for exercise
Open daily from 6:00 a.m. to 10:00 p.m., with no admission fee. Visitors love its modern ambiance, well-kept grounds, and recreational options.
National Botanical Garden
This 205-acre garden in Mirpur is one of Bangladesh's most diverse botanical gardens. It features:
Six climate-controlled greenhouses

Orchards with a variety of fruits

Nurseries for plant propagation

A cactus house displaying over 500 species

A rose garden featuring over a hundred different types of roses.

A medicinal plant garden

A vibrant Butterfly Garden
It is open daily from 9:00 am until 5:00 pm. (closed on Thursdays and national holidays). Admission is 10 taka for adults and 5 taka for children. The garden offers many educational and recreational experiences, appealing to nature lovers and those with a green thumb.
These parks offer diverse experiences, from history and modernity to botany, making them must-visit destinations for anyone seeking relaxation, exercise, education, or fun in Dhaka's green havens.
Baldha Gardens
Baldha Gardens, nestled in the heart of Dhaka, is an enchanting and historic green space. Covering 3.15 acres, it was established in 1909 by the eccentric zamindar Narendra Narayan Roy Chowdhury. He transformed it into a private paradise with over 15,000 rare and exotic plants, making it a hidden gem for plant enthusiasts and culture seekers.
Key Features and Attractions:
Rare and Exotic Plants: Explore more than 500 plant species, including cycads, ferns, orchids, cacti, palms, and bamboo, beautifully arranged in sections like the Japanese garden, English garden, rock garden, and water garden.

Ponds: Two ponds adorned with water lilies, lotuses, and fish, providing both beauty and serenity.

Fountains: Four fountains are scattered throughout the garden, offering entertainment and relaxation with water displays.

Statues: Marvel at statues made of marble, bronze, and stone, depicting various figures and themes, adding cultural and spiritual value.

Library: Explore a small but impressive library housing over 2,000 books on various subjects, including botany, zoology, history, literature, and religion.

Museum: Visit an informative museum showcasing the history and development of Baldha Gardens, complete with photos, maps, models, and artifacts.
Operating Hours: 9:00 a.m. to 5:00 p.m. (closed on Fridays and national holidays)
Admission Fee: 5 taka for adults, 2 taka for children
Baldha Gardens has garnered positive reviews, praised for its natural beauty, uniqueness, educational value, and the sense of wonder it offers visitors.
Rose Garden
Located in Dhaka's old city, Rose Garden is a captivating 5-acre garden with a rich history dating back to 1931. Built by Zamindar Hrikesh Das, this garden boasts a romantic and elegant atmosphere, making it an ideal destination for couples and families.
Key Features and Attractions:
The Roses: As the name suggests, the garden is home to various roses, colors, sizes, and fragrances, creating a stunning visual display.

The Orchids: Explore a collection of orchids that contribute to the garden's beauty and diversity.

The Lilies: Enjoy a serene pond with various lilies and fish, providing a picturesque, relaxing scene.

The Jasmine Trellis: Find solace under a trellis adorned with jasmine and other climbing plants, emitting a sweet and soothing aroma.

The Palace: Admire a three-story palace built of red bricks and marble, representing a blend of Mughal and European architectural styles.

The Mosque: A small and straightforward mosque constructed from white marble, offering a place of worship and reflection.
Operating Hours: 10:00 a.m. to 6:00 p.m. (closed on Mondays and national holidays)
Admission Fee: 20 takas for adults, 10 takas for children
Rose Garden has garnered praise for its natural beauty, historical significance, romantic ambiance, and educational value, making it a delightful destination for visitors.
These parks provide a variety of experiences, from botanical wonderlands to historic elegance, making them essential destinations for anyone seeking relaxation, education, or cultural exploration in Dhaka's enchanting gardens.
Dhaka Zoo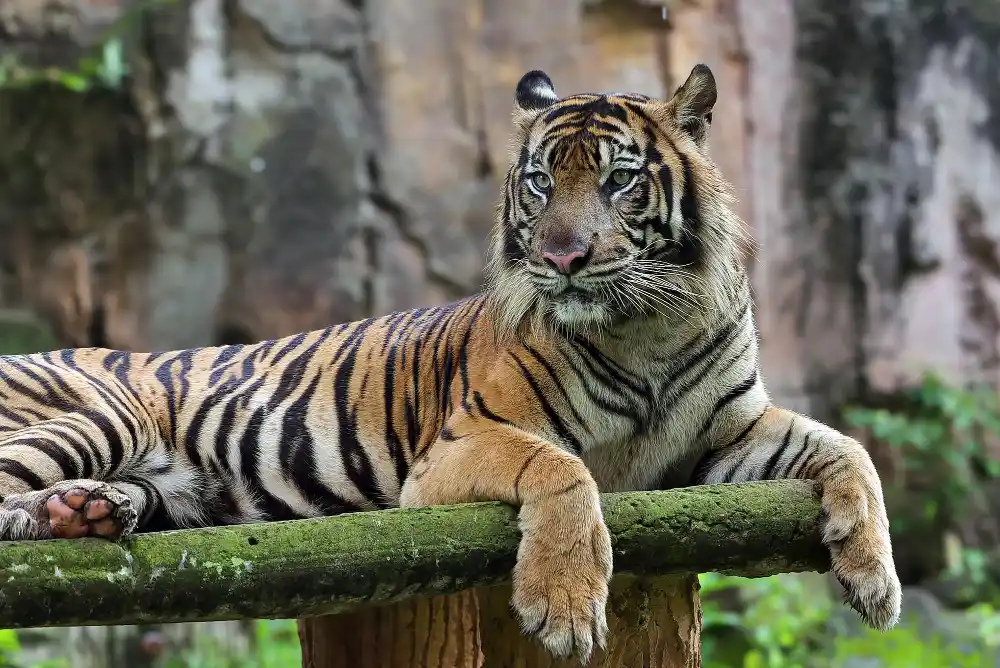 Dhaka Zoo is a premier destination for nature and wildlife enthusiasts in Bangladesh. Spanning 186 acres in Mirpur, it was established in 1974 to conserve and showcase a wide range of fauna, both local and international. This sprawling zoo provides a fun and educational experience for visitors of all ages.
Key Features and Attractions:
The Animals: Discover over 2,000 animals belonging to 165 species, including tigers, lions, leopards, elephants, giraffes, zebras, bears, and more. The animals reside in spacious, natural enclosures, allowing for close observation and interaction.

The Birds: Marvel at over 1,500 birds representing 90 species, from peacocks to parrots. They inhabit large, airy enclosures and provide a colorful and diverse avian spectacle.

The Reptiles: Encounter over 100 reptiles of 13 species, including crocodiles, alligators, snakes, lizards, turtles, and tortoises. Secure and hygienic tanks offer a safe observation.

The Aquarium: Visit the aquarium, home to over 250 fish of 50 species, featuring sharks, rays, eels, and more. The glass walls provide a unique perspective of aquatic life.

The Safari Park: Explore an 80-acre safari park simulating the African savanna and Asian jungle. Encounter over 200 animals, including lions, tigers, cheetahs, and deer, while taking a bus or car ride through their natural habitat.

The Children's Park: Let the kids enjoy a vibrant and playful space covering 5 acres, featuring swings, slides, seesaws, merry-go-rounds, toy trains, mini zoos, and puppet shows.
Operating Hours: 9:00 a.m. to 5:00 p.m. (closed on Sundays and national holidays)
Admission Fee: 30 taka for adults, 10 taka for children
Dhaka Zoo has amenities such as toilets, drinking water, food stalls, souvenir shops, benches, and security guards. Visitors appreciate the zoo's natural beauty, educational opportunities, and the chance to observe various animals and birds.
Nuhash Polli
Nuhash Polli is a 40-acre park situated on the outskirts of Dhaka, Bangladesh. Founded in 1997 by the renowned writer, filmmaker, and professor Humayun Ahmed, it is a unique creative space that showcases sculptures, paintings, murals, cottages, ponds, and trees, offering visitors a dreamy and inspiring environment.
Key Features and Attractions
The Sculptures
Explore a collection of over 100 sculptures, each telling a story from Humayun Ahmed's novels and films, including iconic characters like Himu and Misir Ali.
The Paintings
Admire paintings by Humayun Ahmed and his associates, encompassing various genres such as landscapes, portraits, abstract, and surreal art.
The Murals
Discover large and detailed murals adorning the walls of cottages and the museum, with themes ranging from nature to culture and fantasy.
The Cottages
Stay in one of the six unique cottages, each with distinct designs, including bamboo, brick, mud, and wood. They offer a cozy retreat with beds, bathrooms, kitchens, and fireplaces.
The Ponds
Two ponds brimming with water lilies, lotuses, and fish add serenity to the park, offering opportunities for relaxation and meditation.
The Trees
Nuhash Polli boasts a wide variety of trees, including mango, jackfruit, coconut, palm, banyan, peepal, and more, providing a refreshing and shaded environment.
Operating Hours
8:00 a.m. to 6:00 p.m. (closed on Mondays and national holidays)
Admission Fee
100 taka for adults

50 taka for children
Facilities
Nuhash Polli offers toilets, drinking water, food stalls, souvenir shops, benches, trash bins, and security guards. It has received acclaim for its artistic beauty and peaceful ambiance, making it an ideal spot for relaxation, exploration, and creative inspiration.
Zinda Park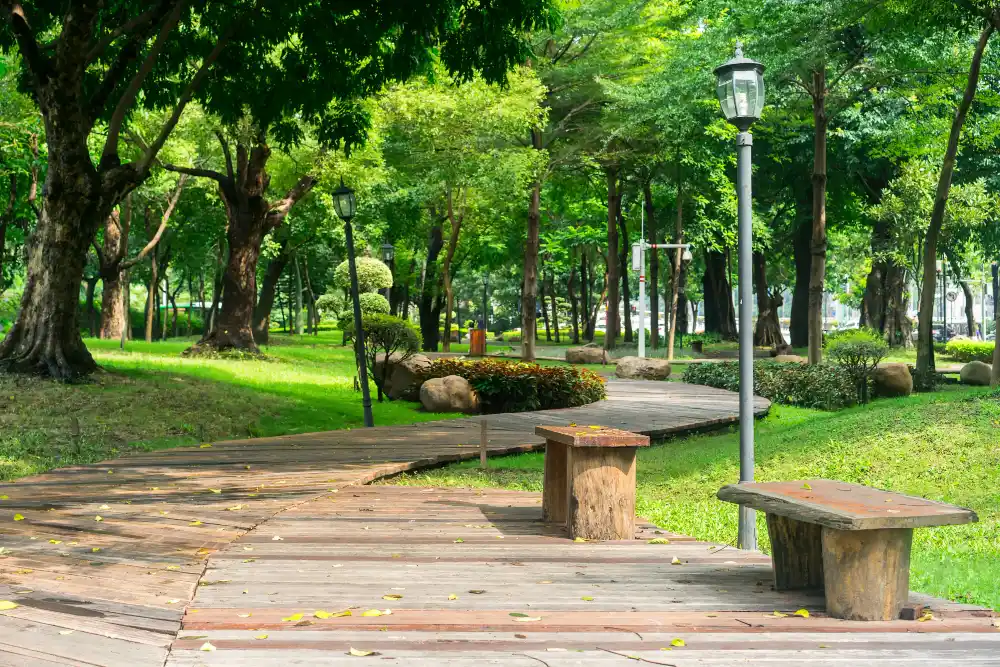 Zinda Park is located in the suburb of Narayanganj and covers 150 acres, offering a serene natural environment for visitors.
Key Features and Attractions
The Lake
The park boasts a 10-acre lake with diverse aquatic plants and animals, providing opportunities for boating and scenic views.
Wooden Bridge
A wooden bridge over the lake is a popular photo spot and provides panoramic views of the park and the lake.
Tower
Zinda Park features a four-story tower made of bamboo and wood with a spiral staircase, offering a bird's eye view of the entire park.
Cozy Cottages
The park offers 12 cozy cottages with different designs, including bamboo, brick, mud, and wood, available for rent, providing comfortable accommodation.
Playground
A playground with various equipment and games is available for children and adults to enjoy.
Library
The park houses a library with a collection of books, magazines, newspapers, and CDs on various subjects, providing an educational aspect to the visit.
Operating Hours
Zinda Park is open from 8:00 a.m. to 6:00 p.m. daily, except Mondays and national holidays.
Admission Fee
50 taka for adults

25 taka for children
Facilities
Zinda Park offers amenities such as restrooms, drinking water, food stalls, souvenir shops, and security guards. Visitors often praise the park for its natural beauty, tranquility, and educational aspects. Some concerns include crowding during peak times, occasional littering, and weather-related discomfort.
Chandrima Uddan
Located in the bustling metropolis of Dhaka, Chandrima Uddan stands out as a beacon of national pride and remembrance. Spanning an impressive 46 acres in the city's central area, this park is not just a green retreat but a homage to the legacy of Sheikh Mujibur Rahman, Bangladesh's founding father and first president, whose life was tragically cut short in 1975. Established the same year to honor his memory, Chandrima Uddan remains a poignant symbol of respect and remembrance for Bangladeshis and international visitors.
Highlights and Attractions of Chandrima Uddan
The Mausoleum
The heart of the park is the mausoleum of Sheikh Mujibur Rahman, an elegant white marble structure gracefully adorned with a dome and a minaret, set against the tranquility of a surrounding moat and lush gardens. It is here that visitors come to pay their respects, reflecting on the sacrifices made for the nation.
The Fountain 
A marvel of light and water, the fountain near the mausoleum captivates with its synchronized jets and colorful illumination, offering a visual treat that is particularly enchanting in the evening.
The National Flag 
Towering near the mausoleum is a flagpole bearing the national flag of Bangladesh a symbol of the country's sovereignty. This emblematic green field with its red disc is ceremoniously raised and lowered daily, accompanied by music and patriotic fervor.
The Monument
Chandrima Uddan also features a symbolic monument at its entrance a series of seven pillars, each representing a core principle from Sheikh Mujibur Rahman's political philosophy. Engraved with his inspiring quotations, this structure serves as a testament to his enduring vision.
The Museum
Within the park, a museum dedicated to the life and achievements of Sheikh Mujibur Rahman offers an intimate glimpse into the leader's journey through photographs, documents, personal artifacts, and multimedia displays—an educational resource for all generations.
Visiting Chandrima Uddan
Accessibility: The park is open to the public from 6:00 a.m. to 10:00 p.m. daily, free of charge. Small fees apply for specific amenities like the museum or the fountain.
Facilities: Visitors can benefit from convenient facilities, including restrooms, potable water, seating areas, waste disposal bins, and the vigilance of security personnel.
Maintenance: Chandrima Uddan is a testament to cleanliness and safety, with regular upkeep by city authorities ensuring a pleasant experience for all.
Visitor Feedback
Commendations: Many visitors find solace in the park's beauty and tranquility, admire its cultural significance, respect its memorials, and appreciate the educational opportunities it presents.
Concerns: On peak days, crowds may gather, and there are occasional lapses in cleanliness due to visitor negligence. Additionally, the climate can affect comfort levels during Dhaka's hotter and wetter months.
Conclusion
In this blog post, we have shown you the top 10 parks in Dhaka and why they are worth visiting. We have also given you some practical information and tips to help you plan your visit. These parks are the pride and glory of Dhaka, and they offer something for everyone, whether you want to relax, exercise, learn, or play. They also enrich the lives of the people of Dhaka and the visitors of Dhaka by providing them with a green and sustainable environment.
If you are looking for a place to visit in Dhaka, we highly recommend you check out these parks. You will not regret it, as you will have a satisfying and enjoyable experience. To make the most of your visit, you should choose the best time, the best mode of transportation, the best companions, and the best budget for your trip. So, what are you waiting for? Grab your backpack, camera, and friends, and head to the nearest park. You will have a blast, and you will thank us later. Do you have any questions or comments about the parks in Dhaka? Please feel free to leave them below. We would love to hear from you. Thank you for reading, and happy exploring!